With less than a month left in London I'm starting to feel pretty damn nostalgic! I've started to note down all the things I haven't managed to fit into the last two years (mainly through pure laziness) and the lack of time to get through them all is making me nervous. However, last weekend my Mum came to visit and she's feeling the same. After all, they'll be no more free accommodation in central London for her soon!
So with my end date looming we decided to pack a bag, get out for the day and start working our way through my list. Our first stop was to somewhere I've been meaning to visit for a while, The Millennium Dome (or as we should probably call it now 'The 02').
Up at The O2
When the Millennium Dome first opened it was a huge deal in the UK and I remember being very excited to visit as a kid. I'm not sure it was quite as spectacular as they were hoping for at the time but these days climbing over the Dome O2 sounded like a lot of fun.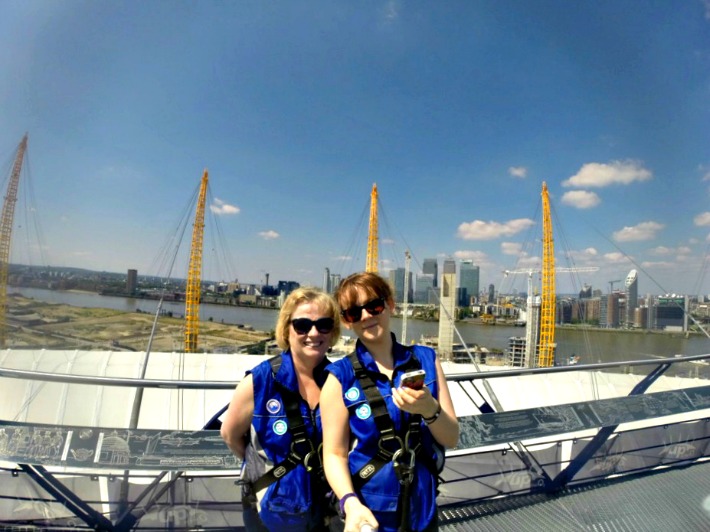 Up at the O2
We decided to book an early slot so it wouldn't be too hot on the climb, thank god we did as IT IS STEEP! In fact, the beginning is incredibly steep, so much so I was dragging myself up by my arms at points. The surface you're climbing on isn't solid but more like a trampoline and this obviously makes it even harder to climb, but luckily it flattens out as you reach the summit allowing you to enjoy the views.
Once back on hard ground at the summit I really enjoyed spotting all of London's famous landmarks and of course having a play with our lovely new gadgets. You could even just about see the Shard through the buildings of Canary Wharf despite it being very far away.
The guides are great and provide lots of information about the surrounding area including, pointing out where the mayflower set sail from and  the location of one of the most expensive flats to rent in London, only £27,000 a month! I don't even get that in a year!
Climbing down The O2 was probably harder than going up, it's even steeper on the side you descend and at one point it looks like you're about to drop off into the water!
Although my Mum was incredibly nervous at the beginning, especially during the safety video, she enjoyed it just as much as I did. Now if only they could build a huge slide form the top, sliding down at the end would be pretty cool…
Tips:
You can usually get money off if you have an O2 phone (use O2 priority moments) I got my tickets half price using a code from the app.
Wear something comfy but don't worry about your shoes, they provide suitable footwear.
Climb at dusk or night time for a completely different feel and of course great photo opportunities!
We really enjoyed 'Up at the O2' and I think we must have got a head for heights as one thing lead to another and we found ourselves in super tourist mode and climbing anything in sight…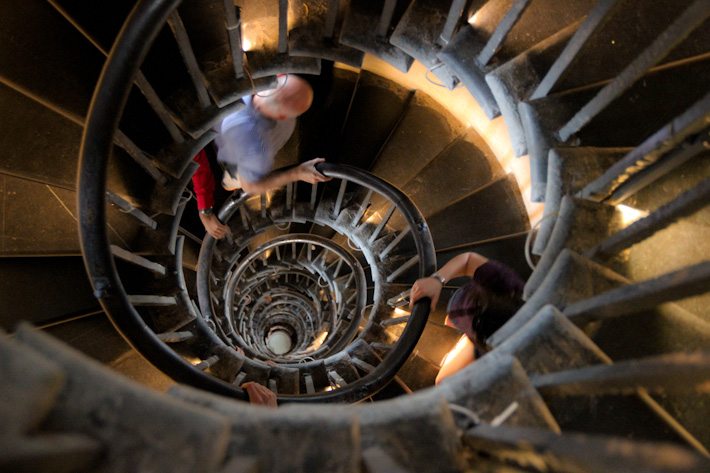 The Stairs of Monument
Monument
After scaling the O2 we went back into central London and straight to Monument! I've wanted to go up here for quite a long time so once I got my Mum on a roll I utilised it!
Monument was built just after the great fire of London to celebrate the rebuilding of the City. It stands at 61 metres tall, and sits that same distance to where the fire first broke out in Pudding Lane.
It's a bit of a killer with 311 steps separating you from the top. Luckily it's totally worth it, the views from the top are great, you can see right across the city of London, including the Shard, Tower Bridge, The cheese grater and the Gherkin. It was a bargain too, costing just £4 or £2.70 for students and you even get a lovely certificate to prove you climbed all those stairs, what more could you want?
I'd imagine it boasts some pretty gorgeous views at sunset.
Tips:
You can combine a visit to Monument and Tower Bridge on the same day and save yourself a fiver! (Unfortunately we didn't do know about this until we arrived at Tower bridge!)
Summer Opening Hours: April – September 9:30am-6pm daily (last admission 5:30pm)
Winter Opening Hours: October – March 9:30am-5.30pm daily (last admission 5pm)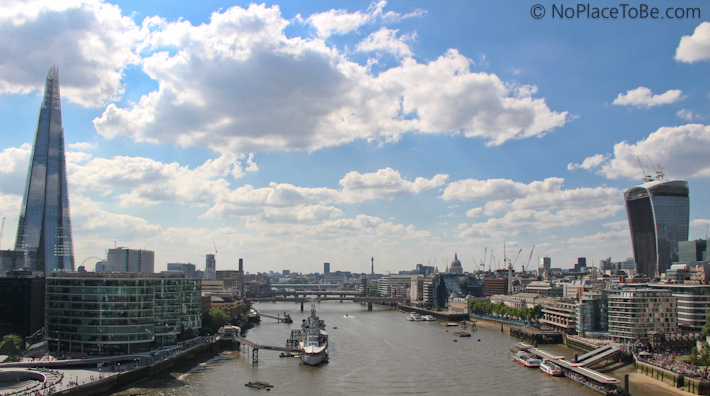 The View from Tower Bridge
Tower Bridge
Our next stop was 'Tower Bridge'.  More than anything it's just one of those places, if you're visiting London you have to go and tick it off your list. As one of the most famous sights in London it's a must do and while it might not be as exciting as the last two stops you can still be treated to some great views at certain times of the day.
Once at the top there are a number of displays you can read but I found it all to be a little uninteresting, there were a few snippets of gold though. For example, London only had one bridge until late 1800s – can you imagine how congested that was? Some of the ideas for crossing the river were quite out there and would have caused lots of problems.  One idea was a raised road with a lift at each end to lift people up and down so they could cross, probably a good thing they didn't go with that idea.
It was fun to climb an icon and it was an impressive view but I did get bored quite quickly, maybe there are only so many panoramic views of the city you can handle each day?
Tips:
It might be worth just enjoying Tower Bridge from the riverbank or taking a walk along it instead of going up. It's appeal is in it's construction and that's easier to admire from afar.
Have you been to any other viewpoints in London that are worth a visit?