Today it is 200 days since we left the UK and began our trip through China and SE Asia.  As I promised in our 100 days of travel post I am bringing you 10 more reasons we love what we are doing.  Just like before I also lied to you in this title….
So here they are: 10 Reasons to love travel.
1 ) Drinking Beer Everynight
Most nights I will drink at least one beer and it's fine "because I'm on holiday". Although my liver may not agree travelling and the fact it's so cheap in SE Asia is a great excuse to Indulge.
2 )The hardest decision of the day
Is usually where to eat breakfast, it's easy to choose to go and visit a waterfall or go hiking around some gorgeous mountains but eating breakfast, it's a tough call, who is going to have the least stale bread.
3 ) Become immune to bad smells
Once you've walked through so many dodgy dirty markets your nose learns when to shut off, the best bit being when you hit the food stalls the senses go into overdrive and you're never not hungry.
4 ) It's acceptable to get angry about little things
It's human nature to moan and when life is so good there are only little things to upset you. For example if firefox takes a little bit longer than I would like to load it's like the end of the world! Also it okay for me to get even more wound up about football than I used to!
5 ) The loser is now the winner
Travelling must be the only time when the guy with no job, home or tie's back at home has the bragging rights, at home I would just be a bum, out here I am 'free'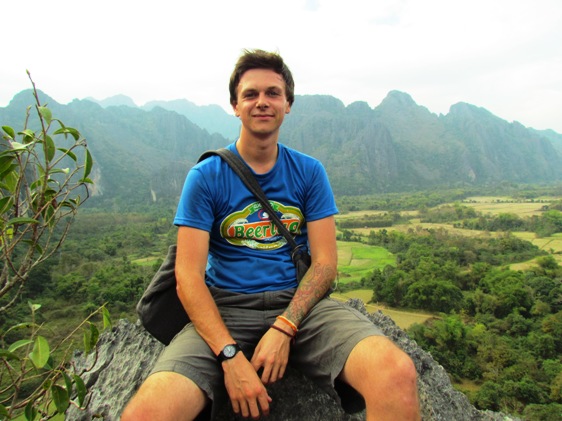 Forcing a smile after some unexpected rock climbing
6 ) Walking around like a sweaty mess is acceptable
Walking down the street, sweating, covered in mud and maybe even a little cut up isn't weird, it earns you respect. You're the backpacker who went out and did something with their day rather than just sitting round in the sun.
7 ) Living Dirty
Quickly washing your underwear in the sink, drying them out and wearing again is fine and not at all disgusting, this goes for all items of clothes. Do not respond to this to tell me otherwise, just keep letting me believe its fine, please.
8 ) Learning to live with it
There are only so many times you can scare that fly away that keeps landing on your screen before you just let it be, say hello to my new friend. The same goes for sleeping, you get used to laying in a bed of cockroaches.
9 ) Going Tubing – Simple As That
10 ) Sitting round in A hammock all day.
This is the opposite to #6, sometimes you want to be the lazy one and the last week we spent doing exactly this in Don Det, Laos.  I can vouch for the worthiness of it.
So they are our reasons to love travel, only another 100 days to wait for 10 more.
Can you add to the list?